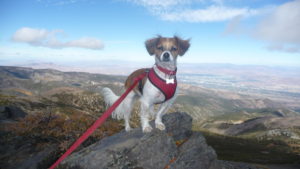 The dogs, well, not really. I'll be up front. Dogs are family. They're my research assistants. We walked many miles hiking the Sierra Nevada, exploring old mining towns and historic sites, side-by-side, together, researching the book. We tread down pathways along branches of the Yuba River, studying the legacy of hydraulic mining. Both dogs are rescues and, for small dogs, quite durable on the trail, utilizing short 4 wheel drive legs. Pinot was found in a field by pole utility linemen, abandoned at just a few weeks in age.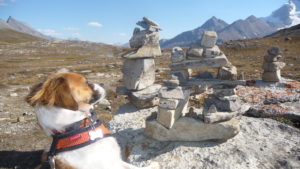 We've had her for almost 7 years and she truly is the "Top Dog," all 13 pounds of her. She has an old soul personality, with a deep, penetrating gaze. We have been stopped on the street by people who want a picture with her and are constantly asked, "What kind of dog is she?" Answer: Many kinds (We're waiting on DNA results). And "Where can I get one?" Answer: There is only one Pinot. Hopefully, there are many years and trails ahead of us.
Like I said, dogs are family and our website will focus on places you can take your dog. Watch for new content, Pinot Under the Table, a food blog that will detail dog friendly eateries and craft breweries who welcome our 4 legged friends.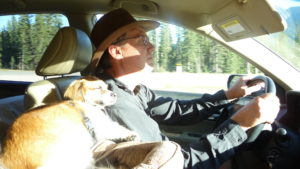 We will do this locally and share our experiences from past road trips, vacations that have taken us throughout the western half of the U.S., the Pacific Coast to Montana, Wyoming, and Colorado, to Vancouver Island and British Columbia, to Alberta, Canada and beyond.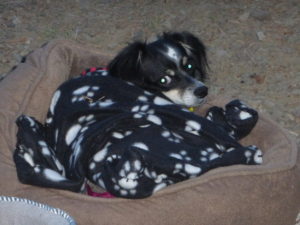 Citra, our black and white darling, is another rescue dog. She is just 7 pounds and was horribly abused by her first owners. I won't comment on the crimes committed against her, but the depth of inhumanity, the evil that resides in some people is truly extraordinary. Once animal control officers gained custody, UC Davis veterinarians and students worked with Citra for months in the hope that she could overcome her fear of humans and beat the odds by becoming adoptable. When we added her to the family, she shook in fear and could not make eye contact. She could not walk on a leash, flattening out in fear with every step. Now, three years later, I can happily say she has overcome so much, happily adjusting to a normal dog life, though still on the shy side. Pinot was a big help, showing Citra, literally, "how to play" and to see that everything in the world is not a threat. Citra is amazingly dutiful and is the namesake of one of our favorite Knee Deep Brewing beers (Citra Pale Ale). I can literally walk the sidewalks of any city and Citra would walk beside me without a leash (though I would never do this). Pinot, on the other hand, would bolt at the first sign of a deer or squirrel.
Needless to say, Citra's recovery is one of the happiest tales of our lives. I'm so impressed at how far she has come and that she can now enjoy life with those who love her. You'll see more of both Pinot and Citra. I plan to post photos and updates of our future adventures. Stay tuned.