For the inaugural entry for Pinot Under the Table, we check in with Knee Deep Brewing. If you read The Golden Star of Shanghai, you'll know that Knee Deep is one of two Auburn craft breweries featured in the book and it's well worth a visit. It also happens to be pet friendly, a big consideration when we think about where we will spend our money. Pinot Under the Table would not be much of a food/drink blog if Pinot got the stiff arm, no dogs allowed treatment, so kudos to Knee Deep for allowing our pooches to be a part of the experience, as we sample their offerings.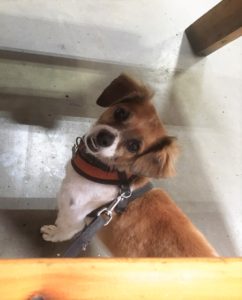 First off, this place has grown mightily since our first visit, which was way back before the official grand opening in Auburn. We were among the first customers and our growler shows it. Take a look at the photo and all the zip ties. Knee Deep has since abandoned the ties, but we keep ours as a badge of honor and is always commented upon by the taproom staff.
Success has bred growth, with the warehouse expanding to 28,000 square feet, going from a 15 barrel brew house to now 40 barrels. There are 16 year round offerings to sample, plus many more "experiments." If you can't get to the taproom, and want to try a beer or two before a visit, Knee Deep is widely distributed, available in 30 states, plus Canada, Australia, Singapore, South Korea, and Thailand. This is some serious growth, with a new state or country flag, signifying new territory, lifted to the rafters on a regular basis.
Here is a list of some of our favorite Knee Deep beers.
Citra Extra Pale Ale (7.0% ABV, 45 IBU): we liked this so much we named one of our dogs after it.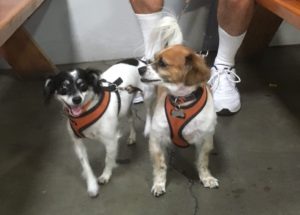 This is a big citrus hop bomb, so work your palate up to it. Grapefruit, lime, passionfruit are all there.
Breaking Bud (6.5% ABC, 50 IBU): more bitterness than Citra and with an interesting fruity blend. Bronze medalist in the highly competitive American IPA category at The Great American Beer Festival (2016).
Galaxy On Fire (6.5 ABV, 45 IBU) available on a rotating basis and my new favorite. Lighter fruit flavor, but very herbal and grassy with the bitter finish.
While at the taproom, you'll want to eat something. Food trucks are continually rotating day to day, so visit the Knee Deep Brewing website for the Events Calendar for truck offerings. Our personal favorite is No Pho-King Way (not kidding). It's a fusion of Vietnamese, Chinese, and Mexican. Try the Pho Quesadilla, Buffalo Grilled Chicken Quesadilla, Banh Mi Fries, and some chicken taco that was unbelievable.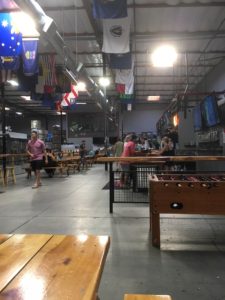 Knee Deep Brewing, great beer, a great place to hang out and Pinot and Citra give it 4 stars. Stop by after visiting other sites associated with The Golden Star of Shanghai, like J.C. Boggs grave in Newcastle, Asa Huntley's Power Inn Mansion, Old Auburn, and the tallest bridge in California, spanning the Auburn/Foresthill canyon (730 ft.).
Knee Deep Brewing is located at 13395 New Airport Road, Suite H, Auburn, CA 95602 (530 797-HOPS). Open 12 – 9 pm daily.